Sil-VER
(Massimo Ferrusi)
| | |
| --- | --- |
| Member Since: | Friday, July 30 2004 @ 07:12 AM CDT |
| Contact: | |
| Homepage: | http://www.myspace.com/maximosilver |
| Location: | Torino, Italy |
| Song Comments: | 498 |
| Song Votes: | 297 |
| Forum Posts: | 72 |
| Weekly Points: | 0.00 |
| Total Points: | 1171.68 |
Bio:
Sil-VER (Massimo Ferrusi) was born in Turin in 24 September 1969.
He studied Jazz drums in Turin Civic School for four years.
He has had lot of musical experiences.
1986-1990
He plays with a punk-rock band, the Indigesti.
- Summer 1986: USA tour – "The sand through the green".
- 1986 and 1987: North Europe tour.
From 1987 tour derived the CD live "Lübeck Live 02/09/87",
Vacation House Records.
1990-1992
It's the Negazione band era.
-1990: "Monster of rock" (AC/DC... METALLICA...etc..) concert in Modena
-1990-91: Italy and Spain tour.
1993-1997
He plays with Persiana Jones.
With this band he gains notoriety also beyond Punk-rock world.
Discography:
SHOW (Vox Pop), 1993
SIAMO CIRCONDATI, (Uaz Record), 1995
BRIVIDO CALDO, (Uaz Record), 1997.
1997-1999
It's the time of the Angeli band.
Discography:
- ANGELI, (Freeland Records), 1997
- VOGLIO DI PIU', (Freeland Records), 1998.
1999-2002
He plays the drums in a few locals of Tenerife (Spain).
From 2001 he also composes electronic music with Macintosh computer using some software as: Cubase, Reason, Logic, Garage Band and other utilities.
PS
Sorry for my bad english
Monster of Rock: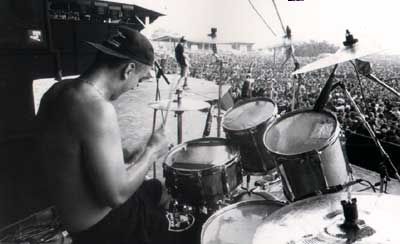 Massimo Ferrusi